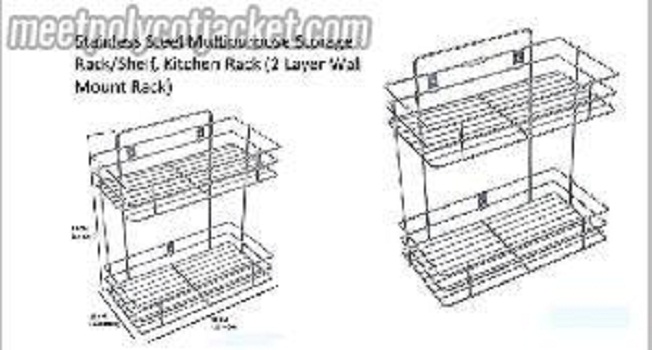 Creating a proper storage space is actually quite a challenging and difficult task for businesses in order to keep a certain area like the kitchens clutter free. Many businesses prefer using the racks for keeping jars, pulses while others might use them for keeping fruits or vegetables. There are different shapes, sizes and types of steel racks that are available in the market.

These different types include racks with drawers and racks which can be fixed in the corners of walls as well. But it is very important to decide thee design and size of the rack based on the nature of materials that would be kept in them. Stainless steel racks are probably the most popular and in-demand type of rack in the market due to their sturdy and durable nature that allows to uplift the overall look of the business.

Companies which act as stainless steel rack exporter have said that these racks are simpler to clean and maintain in the long run too. Just by stepping in the warehouses of some steel rack manufacturers customers should would get some idea about the fact that the type of steel rack they need would depend on the area it would be placed.

Like there are racks for dry storage, walk in freezers and more. This environment plays a vital role in deciding the material of the shelf and the rack. Given below are some types of racks:

• Chrome plated wire units: The chrome plated wire shelving units are considered most suitable for dry and heated environments. These racks are created in such a way that they provide with maximum possible ventilation and visibility. Such racks are also known for having clear epoxy coatings but most of them are prone to rust. This is also the reason why it is advised not to keep these racks in environments with high humidity.

• Polymer storage shelves or units: A Polymer storage shelve or unit is basically a metal rack that is made of a thick upper coating of polypropylene. These are just as strong as the metal racks besides these are also resistant to corrosion. This is the reason why it is advised to use Polymer storage shelves or units in places which require salt water or near the sea air. Restaurants can use these racks effectively in a dishwasher. Usually these racks or shelving units are found with long warranty periods.

• Epoxy coated wire coated shelves or units: Mostly chosen by restaurants which are located near moist and humid areas. These racks are also corrosion resistant due to the fact that they have an epoxy coating. Black and green are highly popular among several colors which are available in the market for use as epoxy coating. Epoxy coated shelves are most suitable for walk in freezers and washing sections.

• Stainless steel racks: Just like it was said before these racks are the most popular style of racks due to their versatile and durable nature. Stainless steel rack supplier enterprises have claimed that their products are made of naturally anti corrosive materials and hence can withstand even the harshest environments. Mostly considered for use in both wet and dry conditions, these steel racks can be even installed in a freezer or in the washing area of a restaurant.