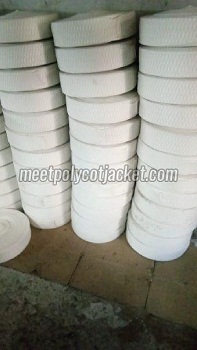 Polyester and cotton blends are extensively used in the clothing industry and are found abundantly at retail outlets. Often lightweight polyester cotton blends are used for shirts and blouses, while heavier blends are used for pants, skirts and fall wear, all in a variety of ratios. Usually, the blend has a ratio of 65% cotton and 35% polyester. It is not limited to this ratio; many times we can find 50/50 blends as well. One can even find 35% cotton and 65% polyester blend in the market. Commercial clothing such as athletic team uniforms and corporate uniforms also use blends of 50/50 ratio. This ratio is most popular in this industry due to its balance between breathability and durability.
Polyester cotton fabric is very popular as it is used to produce many types of clothing because it is stronger, more versatile, and more customizable than 100% cotton. At the same time, the fabric does not naturally stick like 100% polyester. This fabric is made available in rolls. One can get a premium-quality product from a top polyester cotton roll supplier in India. People can rely on a polyester cotton roll supplier in Gujarat, offering world-class quality polyester cotton rolls in the market. Before you buy these polyester cotton rolls, you need to know about the advantages of the material. Here are some of the benefits of polyester-cotton-
• Stronger Than Other Material:
The main benefit of cotton is that it is a breathable material and this is the reason why cotton is a very popular fabric. The major disadvantage of cotton is that 100% of cotton wears out and rips easily. Clothing made from 100% cotton needs more care to last long whereas clothing made from polyester cotton is more durable than cotton. A fabric made of polyester and cotton blend has the strength of cotton and polyester combined. Polyester cotton is usually fashioned into abrasion-resistant fabrics. It can also be washed more often and does not shrink like 100% cotton or polyester. One can wear polyester cotton fabric more often and wash it more often without worrying about the material losing its strength and durability as fast as other types of garments. Overall, the key advantage of polyester cotton is its best for heavy usage.
• Softer Material Than Other Material:
Polyester is not a breathable fabric and usually sticks to the skin while body sweats. It can be the most uncomfortable fabric to wear. Combining cotton and polyester makes the clothing or garments less prone to piling and static. One of the key benefits of polyester cotton is that it is highly wrinkle-free. Because of polyester cotton wrinkle-free characteristics, it does not often need to be ironed. Cotton's lightweight and cool properties in the blend also make the polyester cotton fabric really ideal for all-day comfort. Cotton is also hypoallergenic and does not cause allergies or skin irritation. Polyester cotton gives a soft touch feeling with high strength.
• Available At A Very Cheaper Price:
100% cotton garments and fabrics likely to be more costly than their synthetic counterparts. But polyester cotton is more easily available and cheaper than 100% cotton. As per the World Trade Organization(WTO), polyester cotton fabric prices have seen a persistent decrease since the few years. As prices decreasing, polyester cotton is becoming more popular for businesses in their garment production. 65% polyester and 35% cotton blend is the most economical to make due to the affordability of polyester — making it a great choice for many garment manufacturers to maintain the costs low while presenting a quality product.
To avail the finest polyester cotton rolls to meet your bulk and urgent requirements of your garment industry, you can contact on a reliable polyester cotton rolls supplier in Rajkot, Gujarat. These rolls can be availed at industry leading cost.